Worship through Song
We will begin our Wednesday nights gathered together to worship our God through song. God is worthy of our praise and, as the gathered body of Christ, we seek to glorify Him as we sing. We will meet together to worship through a couple songs before we disperse to our individual groups and studies.
Family Worship
We believe that through Christ we are adopted into the family of God. So we gather, as brothers and sisters, to praise our Father. We also teach our children how to worship as we gather. We want to encourage you to bring your family and lift up your voice to our God as one!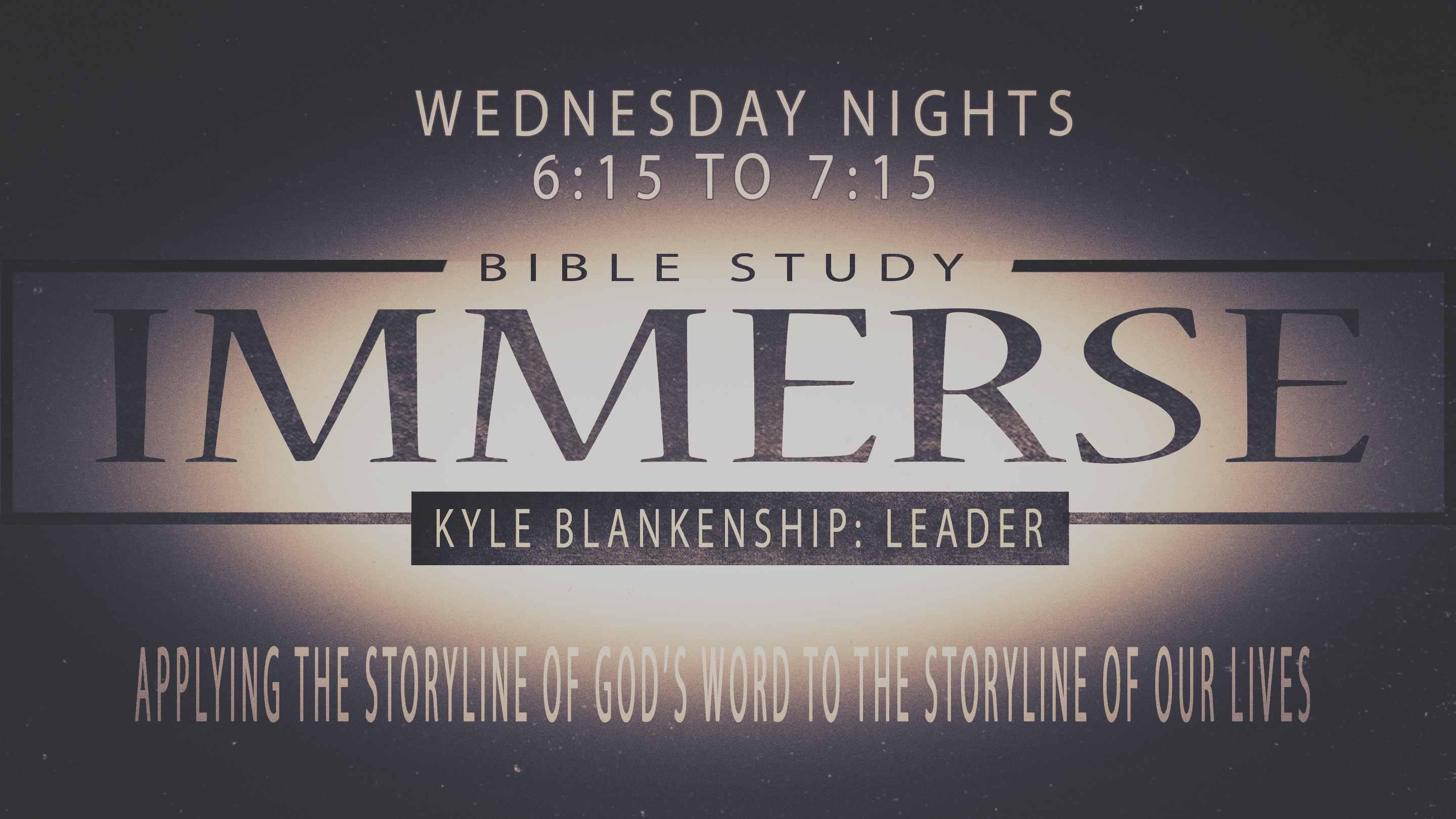 Immerse Bible Study
Join us on Wednesday nights as we immerse ourselves in God's Word, seeking to know more of our God so that we love Him more completely. We will seek to learn what God has given us in regards to sin, salvation, and more important what has been done for us in Christ!
Romans
We will dive back into the book of Romans starting back in chapter 3. We will continue to walk verse by verse through Scripture as we seek to grow deeper in our relationship with the Lord.
Making Peace with Your Past
Making Peace with Your Past is a support-group study led by Lisa Armstrong and Andee Middleton that offers practical, biblically-based guidance to lead adults to identify, understand, and come to terms with the feelings and problems of growing up in a dysfunctional family.
Looking Back to Understand Today
This course will help adults who grew up in a home in which one of the family members had emotional needs so strong that they disrupted the development of healthy relationships. Participants will understand problems from the past and identify and remove emotional, psychological, and spiritual barriers to fellowship with God.
Cross Point Youth
If you are a middle/ high-school age kid or have children in middle/ high school we would love to see you or your children at our youth group. Josh Dowell leads our youth into Scripture to find Biblical foundations to stand firm in the Lord in spite of all that this world throws at youth today.
Face Today Confident in the Lord
No matter the struggle or temptations we find our hope in Jesus Christ. Our Youth Group engages real life in an environment that is relational and fun, yet meeting life with our only hope, Jesus Christ our Lord.
Explore the Bible
Beginning on September 6th we will launch a whole new adventure for our kids! They will be diving into the Biblical world and experience the Bible in a whole new and exciting way! Bring your kids out as they engage God's Word and learn how to really explore the Bible!
The Words of Life
The Bible is not just some story but it is the very word of life. It is God's self-revelation so as our kids learn to explore the Bible they dig deeper into who our God is. This vital truth defines us as believer's and we believe our children should engage God's Word as often and vividly as possible!
Watch Me!